Boot Camp for New Dads workshop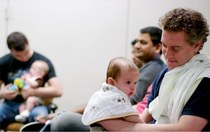 Boot Camp for New Dads, a unique program for expectant dads, is being offered at Lawrence Memorial Hospital in partnership with Dads of Douglas County.
Registration for the Boot Camp workshop, which costs $10, is available at the Lawrence Memorial Hospital website at
http://www.lmh.org/wellness/events/event-results/?topicId=140
Boot Camp is a highly successful program in which new dads (Veterans) show the ropes dads-to-be (Rookies) who are expecting their first baby. The program uses a men-only training approach giving guys the opportunity to talk about things they might not normally discuss. It also includes real babies brought by the Veterans to give guys some hands-on experience.
This combination – Rookies, Veterans and babies – in a room for three hours makes for great chemistry. The Rookies are all eyes and ears as they watch the Veterans feed, burp, change and care for their babies while hearing their experiences and advice. A strong sense of solidarity quickly develops between these men and peaks when the Vets give their babies to the Rookies for hands-on training. There are few other opportunities for new dads to obtain the insights of other men on the challenges of becoming a father.
Boot Camp prepares men to be dads in all respects, beginning with holding and comforting a real baby. Veteran dads demonstrate burping, changing, swaddling, the troubleshooting a crying baby and deal with a broad range of issues including bonding, work hours, forming a parenting team, safety, preventing child abuse, dealing with relatives, etc. The strongest emphasis is placed on the tremendous support new moms need from dads.