Dad Days Party at the Watson "Train" Park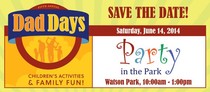 SAVE THE DATE: Dad Days Party in the Park is coming Saturday, June 14, 2014. We hope you and your whole family will join us on the weekend of Father's Day.
A community children's festival to celebrate all the great dads of Douglas County.
www.facebook.com